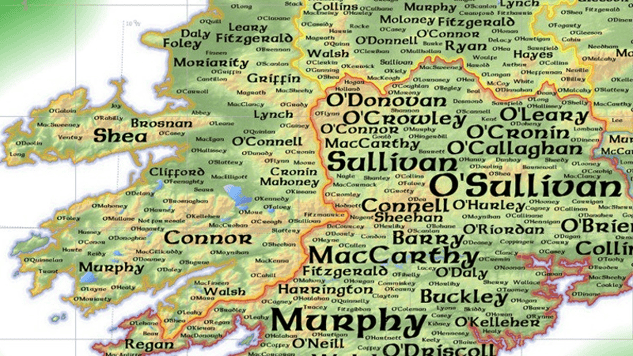 While some surnames have fallen out of use, others can be traced back centuries, says Dr Paul MacCotter
Ireland has, arguably, the oldest surname system in Europe. This, of course, relates to those Gaelic surnames of Irish origin, the surnames adopted by people of the stock of the original 'Celtic' Irish. The term 'Irish surnames' can also refer to those few surviving Irish surnames of Viking or Scandinavian origin (such as my own) and to Irish surnames of Anglo-Norman origin, most of which were imported intact from Britain or the Continent 800 years ago, but a small number of which were generated within Ireland.

How do we define surnames as 'Irish'. Many modern surnames found were introduced by English and Scottish settlers who arrived here in the 16th and 17th centuries, especially in Ulster, not to mention more modern waves, such as for instance Palatine (from Germany) and later Polish surnames.
Here we will discuss only Gaelic Irish and Anglo- Norman surnames, most of which have current forms unique to Ireland. Surnames of Gaelic origin comprise around two-thirds of all surnames found in 19th-century Ireland, while Anglo-Norman surnames comprise less than 10pc of that total.

"By Mac and O you'll always know true Irishmen they say, But if they lack both O and Mac, no Irishmen are they"

This rather racist 19th- century ditty actually preserves a truth regarding Gaelic Irish surnames, as almost all of which in their original form contained the prefixes Ó and Mac, the former now Anglicised O' (where the apostrophe replaces the accent).

The original forms maqi and avi occur as early as the 6th century on ogham stone inscriptions, meaning 'son of' and 'grandson of' or 'descendant of '. The styles 'mac' and 'ua' were common in Early Irish but referred to actual sons and grandsons of the name-giver.

It is only from around AD900 that we find these styles of name becoming fossilised — not changing with each new generation but remaining fixed, and so becoming true surnames.

The original fashion was to be called after your real grandfather, but later this change in each generation stopped and the name of the ancestor became fixed.

The style ua or ó was by far the most common prefix, while mac later developed from an alternative formula for the same relationship, 'mac meic', meaning 'son of the son of '.

In many cases, such names preserve the forename of a famous ancestor, reminding us that, to paraphrase Dr Edward McLysaght (whose wrote the standard works on Irish surnames), one's surname is one's most important family heirloom.

This is even more relevant today where the arrival of genetic genealogy and yDNA science allows us to see the development patterns of surnames based upon inherited male genetic markers that pass from father to son. This science is still in its infancy however, and many of the claims made for it are dubious.

Here are some famous Gaelic ancestors whose memory is preserved in that of the surname of their descendants:
Ruarc,

king of Breifne (Cavan/Leitrim) died 898: O'Rourke

Brian Boru,

high-king, also killed in battle, at Clontarf against the Vikings, 1014: O'Brien

Dondubán

, king of Uí Fidgeinte (Limerick) slain by his enemies 980: O'Donovan

Cartach,

king of Eoghanacht of Cashel, burned to death in a house by his enemies, 1045: McCarthy

Tuathal,

king of Leinster, died 958: O'Toole
It is important to note that not all similar surnames derive from a single ancestor. There were at least five unrelated lines of O'Connor (Kerry, Clare, Roscommon, Sligo and Offaly), four or five of O'Murphy
(Cork, Wexford, Tyrone, Roscommon), and four of O'Kelly (Galway/Roscommon, Laois, Meath and Derry.
In many cases the 'O' and 'Mac' were dropped with the death of Irish as the lingua franca, and only partly revived as a nationalist fashion in the 19th century. So, many Riordans will not know that they are really O'Riordans, Sweenys that they are really McSweenys, etc.
Most Anglo-Norman surnames derive from the custom of naming men after their lands or home place, which enables us to locate their origins. Some such surnames originated from places in Ireland, such as Mead (Meath) and Galway, but came from abroad, eg Cogan, Roche, Condon, and Barry from places in Wales; Burke, Bermingham, and Kent from places in England; Tobin, Devereaux, and Power from places in France.
Another common category of Anglo-Norman surnames were nicknames, such as Dollard (fool), Savage ('culchie') and Purcell (piglet).
For more see my regular surname column: www.Irishlivesremembered.ie/ or visit www.paulmaccotter.com
Get our free Family Tree Pack!

EPIC & the Irish Family History Centre have created a beginners guide to help you take the first steps on your genealogy journey.
To find out more and to sign up to receive the pack, click below.