Dr Isabel 'Ida' Deane Mitchell - Ireland's Epic Women | EPIC Museum

The Ulster missionary doctor who left a lasting impression on Manchuria
"I want to fight tuberculosis. It killed two million in China last year, and I want the girls to help me to fight it."
Ida Mitchell devoted her career to saving the lives of countless women in China. Her conviction and determination in helping the lives of young women and girls has left a lasting impression on Manchuria even today.
Between 1869 and 1951, around 91 Irish Presbyterian missionaries worked in Manchuria, Dr Ida Mitchell being one of them. Mitchell decided to study Medicine in 1893, enrolling four years later with Queen Margaret College at Glasgow University, graduating in 1903. Like many other female Ulster Presbyterian missionaries, Mitchell was the daughter of a minister. She grew up in a house where charitable endeavours were encouraged- her brother became a minister and chaplain during WW1 and her sister married another missionary worker. When Ida learned of the need for medical care in China, her parish helped her fundraise for her university education.
In 1905, Mitchell arrived in Manchuria and was sent to work in Fakumen. In her own words, arriving in China was arriving in 'the haven where I should be' and she was delighted to have been able to carry out the missionary work that she felt she was always supposed to do. From the get go, she loved China, stating that it was "a wonderful life and wonderful work". However, there were times when she felt fully alone in her work, especially with the language barrier. For that reason, to properly understand her patients, Mitchell began learning Mandarin.
Mitchell took everything to heart. She tended to let her responsibilities weigh heavy on her. When her patients succumbed to their injuries, such as a 16 year old girl with a tumour who passed after being operated on, Mitchell's writings display a sense of complete loss. As she said herself, "I just can't love these children enough." She wasn't isolated completely, however she may have felt at times. She had a close circle of friends and family around her in China- She became very close with colleagues Sara MacWilliams and Reverend F.W.S O'Neill and her own sister soon moved to Fakumen with her missionary husband.
The pinnacle of Mitchell's career was when, through her fundraising, she was able to open a women's hospital in 1909. Thanks to the donations Mitchell raised, the hospital opened debt-free too. However, Dr Ida Mitchell's own health was fragile. In 1910, she returned home on what was supposed to be a year's leave but ended up being two due to illness. She was determined to go back to China and after an operation in 1912, she was permitted to do so later that year.
Upon returning, she threw herself into work yet again. This time, with her hospital fully operational and changing lives daily, her next endeavour was to secure its legacy and longevity. She began a fund to train Chinese women in Western Medicine and in her time, she managed to train six local women to be dispensary assistants at the hospital. Had it not been for her failing health, she would have been able to train many more.
On the 16th March 1917, Mitchell was admitted to hospital for fatigue. The next day, she was diagnosed with diphtheria and on the 23rd of March, she died. The news of her death came as a shock to all who knew her- she was expected to make a full recovery from the infection. At her funeral, a local Christian leader said of her "our doctor has given her life for us. For twelve years she has been at the call of anyone who suffered". Ida was buried in the Russian Cemetery in Jilin Province, near to where her sister lived.
For just one woman and just twelve years of work, Dr Ida Mitchell made an extraordinary impact in Manchuria. She was completely dedicated to her work and was a caring, compassionate influence in the lives of countless Machurian women.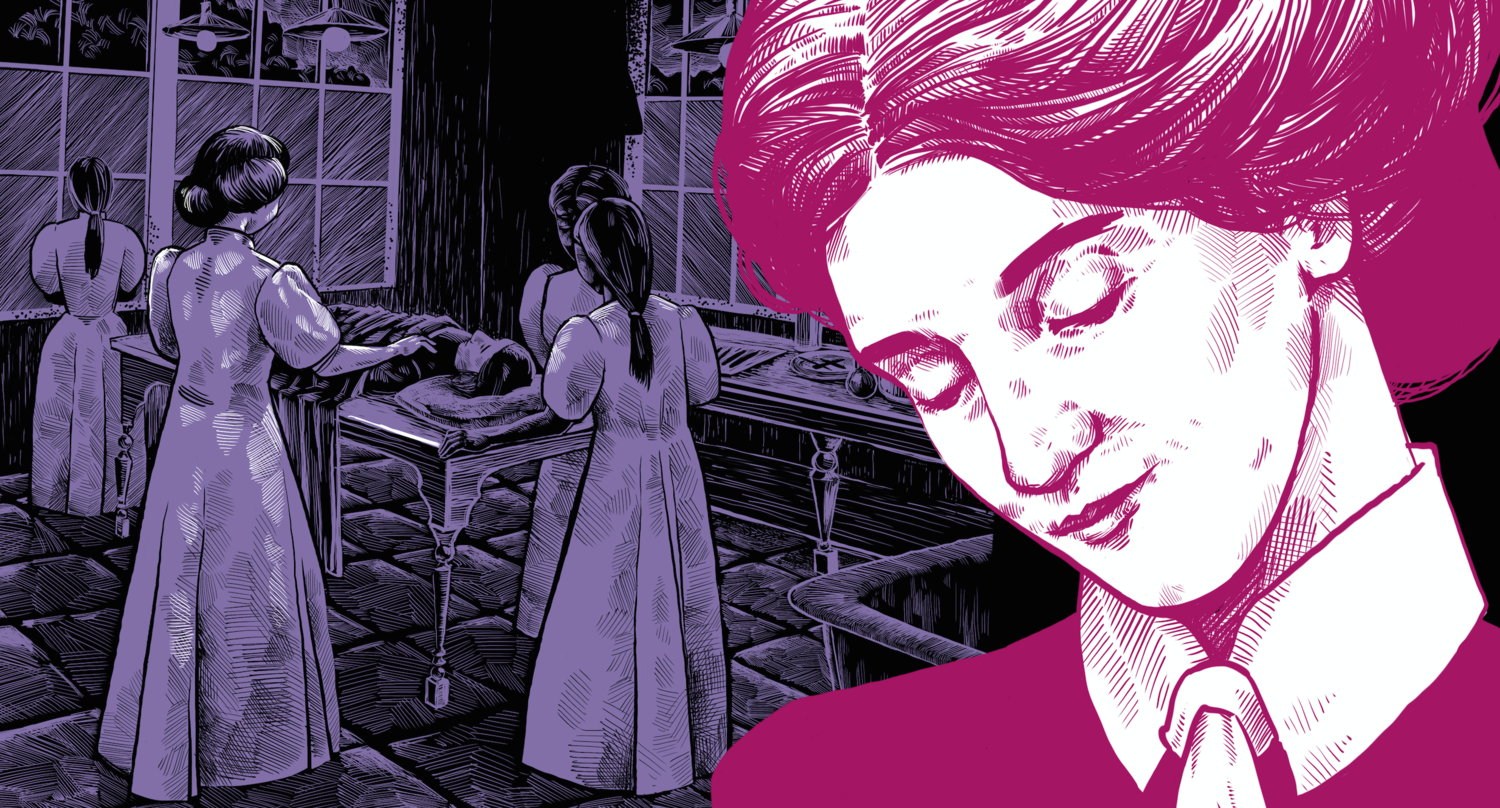 Illustration by Szabolcs Kariko as part of Blazing a Trail exhibition at EPIC in collaboration with Herstory and the Department of Foreign Affairs and Trade. The exhibition, launched in November 2018, runs again at EPIC at various dates from January - March as part of a series of special events at EPIC as part of the Herstory 20/20 project focusing on Ireland's epic women. Click here to find out more about our events as part of Herstory.